NUVEX® Saniboard and NUVEX® Leisureboard products are used widely in both the education and science departments throughout Australia. The unique properties of these products are well suited for high traffic and high contact type applications. These types of environments require both toughness and dependability to ensure they will endure the many years of physical contact that is quite commonly made by students and visitors of all ages that attend schools, universities and TAFE colleges. One of the most common complaints is for graffiti damage.
This costs thousands of dollars each year to maintain and these funds could be used in many other areas. Other issues that raise their head on many occasions is the physical damage caused by regular student and visitor abuse and also with water and flood damage.
The products and their applications below provide the ideal solution to these issues. If you would like further information on these products or request a visit by one of our NUVEX product specialists, please call 1800 170 001.
Toilet Partitions and privacy screens
The most common issue with toilet partitioning in schools, universities and colleges is the high cost of repairing and replacing broken or damaged partition panels on a regular basis, costing thousands of dollars each year.
NUVEX® toilet partitions will still look great years on and is the only product of its type on the market with an 18 year product warranty.
Nuvex® Saniboard
Will not break, swell, splinter or rust

Will not delaminate or rot

Solid colour throughout the material

Strong, durable and impact resistant

Chemically inert

Graffiti resistant and easy to clean

Resistant to mildew, mould and odours

Environmentally sound

100% Recyclable

100% water proof (Flood proof)

Will not hold odour
NUVEX® toilet partitions have a number of vital properties, offering graffiti resistance, durability, strength, resistance to corrosion, low maintenance, cost-effectiveness, and 100% recyclability and offering a low life cycle cost.
A performance enhanced polymer, especially formulated for the sanitary partitioning market. NUVEX® Saniboard is the ideal product for toilet and shower cubicles, school lockers, urinal privacy screens, sport lockers, benches and other wet area applications.
*If you would like further information on this product or request a visit by one of our NUVEX product specialists, please call 1800 170 001.
SIZE AND THICKNESS
NUVEX® Saniboard:
19mm Thickness, 3600 x 1800mm Sheet Size
19mm Thickness, 3600 x 1650mm Sheet Size (Night Sky Only)
NUVEX Saniboard Colours
Standard Colours
| | | | | |
| --- | --- | --- | --- | --- |
| Frost Granite | Steel Grey | Pure White | Taupe | Black |
Optional Colours
| | | | | | |
| --- | --- | --- | --- | --- | --- |
| Sandstone | Royal Blue | Burgundy | Night Sky | Lime Green | Red |
Science Laboratory Bench Tops
NUVEX® Saniboard frost granite has been widely used in biology laboratories throughout Australia in Schools and major Universities for bench tops.
Due to its resistance to most chemicals, and its great impact resistance, Saniboard is the ideal choice when compared with products far more expensive like Corian®, NUVEX® Saniboard will not absorb any spillage and will also not retain any chemical smells.
It will also not harbour any mould or bacteria of any form. With its solid throughout characteristics, this product will always look great even after years of knocks and scratches.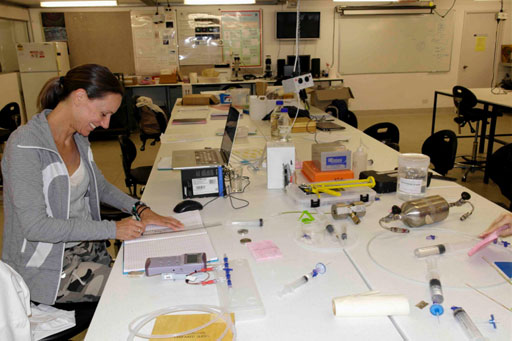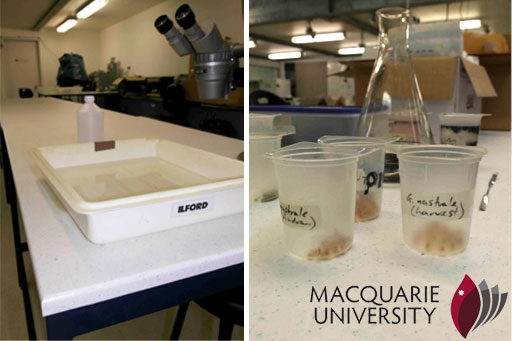 Outdoor Seating
School, University or college outdoor areas
Outdoor seating in most schools and colleges require annual maintenance with repairs to loose or broken screws and a new coat of paint being an almost annual event. When you consider how many seats there are in and around a school ground area, this is quite a large task to attempt to get through them by the end of the school holiday break. The bench seat you can see pictured within the slideshow is from a private school in Brisbane and this photo was taken in September of 2014.
These seats slats are made from NUVEX® Leisureboard and are 25mm thick and approximately 1800mm long and 75mm wide. More importantly, this seat has had all of its timber panels replaced with NUVEX® Leisureboard 6 years ago in 2008. As you can see, the product still looks great. This seat has been exposed to the extreme Queensland climate including severe storms, high temperatures and their many students.
Available in Blue, Green, light Green, Yellow, Red and white.

19mm & 25mm thick.

Seating slats and panels are 2 metres maximum in length and can be manufactured to your required width and design.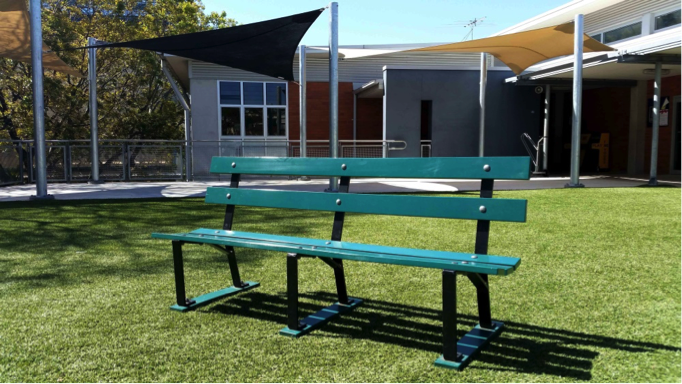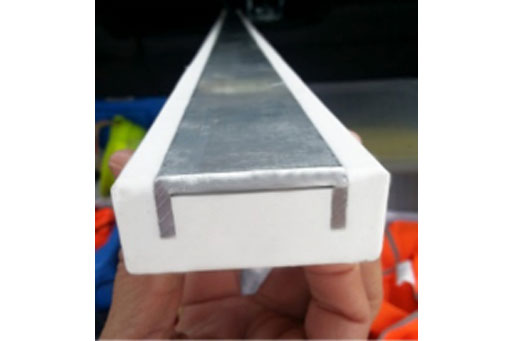 The NUVEX® SMART seat range incorporates an aluminium extruded support that increases the impact resistance of the plastic by an additional 35% and also improves the slats natural deflection rate by approximately 30% to match that of regular timber slats. The extruded aluminium profile also provides sufficient support to the plastic slat when exposed to the harsh elements of the ever changing Australian climate. Also most importantly, this product is UV resistant.
If you have an application that requires no long term maintenance, it will need to look great for many years to come, and is very easy to keep clean, then the NUVEX® SMART seat range is for you. For more information regarding Nuvex seating, please contact your local Nuvex product specialist on1800 170 001
BENEFITS OF NUVEX® Leisureboard Seating
A low maintenance product

Never requires painting or varnishing

Graffiti Resistant

Non-stick surface (Chewing gum free)

High impact resistant (Will not Break, Split or splinter ever)

100% recyclability (One of the most ecologic construction materials available)

UV Resistant

Mould and mildew resistant (Ideal in parkland, aquatic and other moist environments

Pressure cleaning resistant

Will not get too hot or bend like aluminium slats.

Solid product throughout, product keeps looking great for years to come.

Perfect way to add colour to any environment.

Textured surface.

ECO specified rating

An environmentally friendly product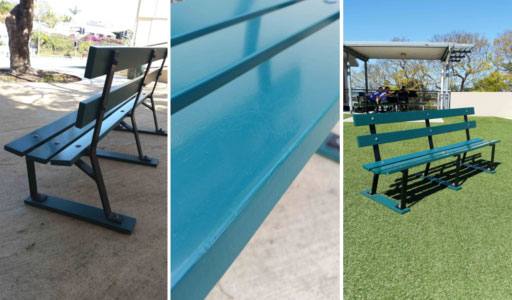 Change Room and Locker Seating
We are also able to provide bench seating for both the change room and locker room environment and also seating for out in the playground or parkland areas where low level seating is usually required. These seats are high impact and 100% water proof.
They will never rot or split and will never be attacked by termites. All these seats are custom designed to suit you individual requirements. For more information regarding Nuvex Seating, please contact your local Nuvex product specialist on 1800 170 001.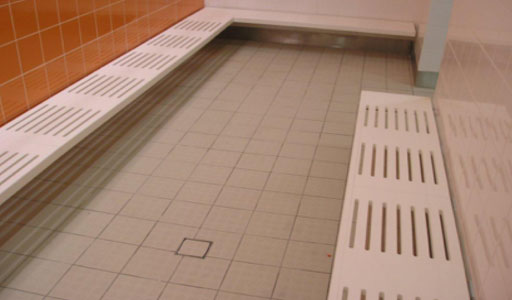 Change room bench seating
(19mm / 25mm H x 450mm W x 2000mm L)