Eco specifier approved materials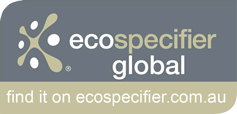 Ecospecifier is a guide to eco and health preferable products, materials and technologies for the built environment construction sector and is specifically targeted to the needs of decision makers and specifiers. The system is an educational, one stop resource for thousands of dedicated professionals every day that subscribe and utilize the vast online knowledge and database of ecospecifier websites worldwide to research eco and health preferable building materials and study critical information on how to integrate this knowledge into sustainable developments and green rating systems.
Ecospecifier aims to reduce negative human health impacts by providing greater clarity about what is and is not "green" and facilitating a greater understanding of the issues surrounding eco products, enabling easier identification, specification or location of eco and health preferred products.
The NUVEX® product range has completed the product assessment and received the Green Building rating tool credits. This means that the NUVEX® products exhibit one or more eco or health preferable characteristics compared to other products in this category.
Find out more about Eco Specificer http://www.ecospecifier.com.au/
NUVEX Recycling Guide
Not only is NUVEX® manufactured using a percentage of recycled polymer, the sheet itself can also be fully recycled at the end of its service period. Dotmar can provide customers with simple "Recycling Guidelines" to assist with streamlining the process of material recovery. NUVEX® is a true GREEN alternative to traditional timber substrates.
This page is designed to provide architects, builders and end users with all the information required for the recycling of the NUVEX® partitioning panels and products.
NUVEX Completed Life-Cycle
Upon NUVEX® partitioning panels and products reaching their intended usage, the material is 100% recyclable.
Steps Taken
The following steps should be taken to ensure NUVEX® is recycled correctly:
Remove the NUVEX® product from its current space
Remove all fixing from the NUVEX® product (including screws, hardware and channels) leaving just the plain NUVEX® sheet
The NUVEX® product can then be taken to the nearest Dotmar branch where the material will be collected free of charge. Branch locations can be found on the Dotmar website
The NUVEX® product will be placed into our recycling bins and collected by a nominated recycling company
The NUVEX® product is then shipped to local plastic recyclers where the material is sorted into grades according to colour and quality, it will then be ground, granulated for reprocessing of new extruded and moulded plastic parts and shapes.